It has never been easier to buy hentai games, or eroge. The original versions of them are purchasable through sites, such as DLsite.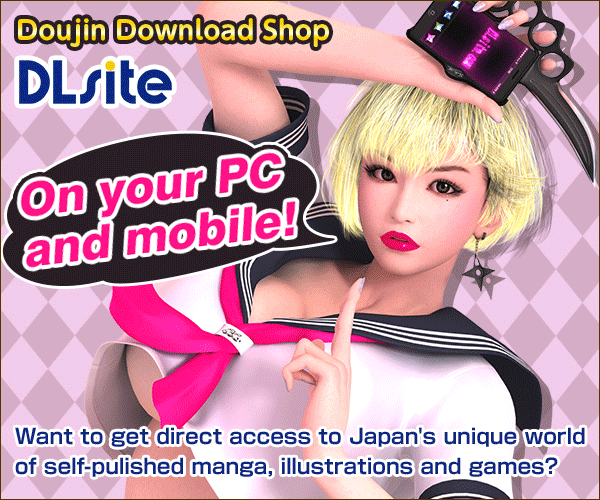 DLsite offers many discount coupons and sales throughout the year, plus points on every purchase made. They have the biggest doujin hentai collection on the Internet.
Click on the image above to head over to DLsite, or click here to learn how to register an account and add payment details.
Another excellent point to purchasing hentai through DLsite is that your purchased items will be stored online – similar to how Steam does it. This allows you access and download your hentai, anywhere you can log in to your account.
It's especially useful when your hentai library becomes so big you can't remember what you have.
Buying Hentai Games in English
Thankfully, there are options for people who are not able to understand Japanese.
There are more and more companies out there who are starting to translate hentai games and visual novels, from Japanese to English.
For older hentai games and visual novels, the translations are from fansubbers, and then refined and tested by a professional team.
A great example of this is the Sengoku Rance translation that was released a long time ago. The fan-made English patch still featured a lot of Japanese, as getting rid of it would have made the game unstable. However, the official English translation over on Mangagamer doesn't have these restrictions.
Another appealing point to buying from English sites, such as Mangagamer, is that they keep their target audience in mind when distributing games.
The version on MangaGamer also features a complete English translation, so players can enjoy the game without having to mess around with patches that may not provide a 100% translation, to begin with.
Why Pay for Hentai Games/Eroge?
Though it isn't really something one should brag about, it is possible to acquire hentai games, manga, and anime without paying for them.
So, why bother paying for them?
Supporting Hentai Developers
It's a point that has been repeated to death, but still holds true. If a developer doesn't make money from their game, they may not be able to fund themselves during their next production cycle. Meaning, they may have to get a full-time job and try to make their game in their free time.
In this case, even if they manage to remain motivated and finish their game, it will likely take a LOT longer and may have some cut corners, or a lack of polish.
For a quick reference on how much developers on DLsite actually make, check out the commission chart below.
As you can see, DLsite takes a rather considerable percentage from each sale, similar to Steam. Let's put this into perspective:
One copy of 爆災雷鋼ライオウガー (Raiohgar: Asuka and the King of Steel) sells for 1,320 JPY on DLsite. Japanese sales tax is currently 8%, which is added on afterward, so the actual price is around 1,222.23 JPY.

For the sake of simplicity, let's just call it 1,200 JPY.

Upon sale, GapTax, the developer, receives 620 JPY. That's a mind-blowing 48% cut that DLsite takes.

If one were to look at torrent download numbers, 爆災雷鋼ライオウガー (Raiohgar: Asuka and the King of Steel) has been illegally downloaded 7618 times. This is only counting the initial torrent uploads of the game, not updates, etc.

So, [lost sales due to torrents] x [DLsite Income] = [How much the developer lost]

7618 x 620 = 4,723,160 JPY
That's a lot of money for a doujin developer, or even the average person, for that matter.
If they had that much money, there is a very strong possibility that GapTax could have added full voice-acting to their upcoming game, 斬穿姫エクスエル (Zansenki Exuer).
Eliminate Parasites
The heading makes it sound more dramatic than it actually is, but let me explain.
There are many individuals out there who upload files onto an online storage site (RapidGator, Mexashare, etc.), then share the download link to those files, illegally sharing them.
What many people fail to realize is that downloading from these links gives money to the uploader. Purchasing premium membership to the online storage site, after clicking a download link, also gives money to the person who illegally uploaded the file.
For example, on Mexashare, the individual can make up to $50 for every 1000 illegal downloads. Considering the end-user is able to download the hentai content for free, you can imagine getting 1000 downloads isn't too difficult.
Take into consideration $50 is around 5,000 JPY, and let's use 爆災雷鋼ライオウガー (Raiohgar: Asuka and the King of Steel) as an example, again:
620 JPY per sale x 1000 = 620,000 JPY. Around $6,000.
1,000 illegal downloads (assuming Tier 1 countries) = approx. 5,000 JPY ($50).
So, these parasites are essentially: illegally distributing the hentai games, depriving developers of well-earned money while extremely devaluating their work, and directly profiting by selling the work of others.
Definitely not something that should be condoned.
*Note: there are affiliate links on this site, however, this is merely promoting products on main distributors, such as DLsite. Any money made through this is paid by DLsite, not the developers, with zero effects on the buyer (no increased prices, changes in quality, etc.).
Free Content Updates
Many doujin hentai game developers add content to their game after their initial release. Unlike many other developers, over on Steam, these content updates are usually free and add a good amount of content to the games.
A doujin hentai game developer who is excellent in this regard is さーくるてくあ (CircleTeckA). They frequently update their games to add new content, a number of their games updating to version 4.0. Meaning, at least, four major content updates that add more hentai scenes, for free.
However, if you were to look on download or torrent sites for their newest game, りりすいんないとめあ! (Lilith in Nightmare!) updated copies are not available. Only the version that was initially released.
The official game has been updated to version 2.0, as of writing.
Update: The game updated to version 3.0 literally the day after this post went up.
This is a frequent occurrence on illegal download sites, many of the games are older versions that do not get bug fixes, or content updates.
Let Hentai Developers Know What You Like
Obviously, this does not involve writing to them and giving developers your name and a list of your tastes.
But, actions speak louder than words.
If a hentai developer can see that a certain genre, or theme, sells well, they are more likely to develop it. They can foresee some kind of return on their time and effort (plus costs of voice actors, etc.).
Remember Monmusu/Monster Girl Quest? Remember how much monster-girl theme stuff came out around the same time? There was even a monster-girl anime.
Point is, if you want to see more of the hentai you like, you need to show developers people are willing to buy it, and that they will be rewarded for their time.
To Conclude
If you like hentai, and want to see more of a specific genre or theme, then buy it.
It's not difficult to find hentai you like, and buy it, nowadays, and prices are very fair.
Buy hentai games/manga/etc. directly from the source, via DLsite.
Or, get English-translated hentai stuff, such as Sengoku Rance or Custom Order Maid 3D2, through MangaGamer.
If you have any questions, or if there's anything I've missed, please let me know in the comments below!